As offices look to reopen and get back to working in a state as close to normalcy as possible, there is a lot that needs to change in order to have the workspace safe for your team and employees. Some of the things that must be kept in mind are listed below for a ready checklist and plan for you.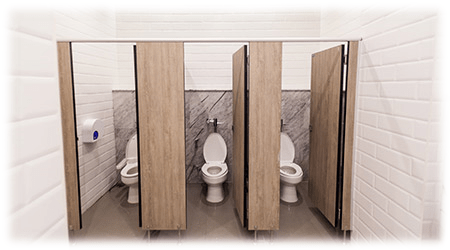 Bathroom sanitization and fumigation
Keeping the workplace sanitized and fumigated for zero risks is no longer an optional or motivation factor. It is about hygiene literally and in the management talk sense. Scheduling and ensuring timely work on this at a steady paced interval are something no office can ignore today. Commercial bathroom cleaning services includes restroom cleaning and the attached areas like lobby. As the team leader for all employees and the one in charge of their at-work safety, this is something you just cannot ignore. Finding the best time and way of this at the earliest is crucial.
Pest control
This is an activity that is unavoidable at all costs in regular life; in COVID-19 times, it takes on even more importance. While the pests may not directly contribute to the illness in question, a lack of care for their presence sends a larger message to the employees and partners on the hygiene of the workplace. This, if not taken care of, is likely to be the factor that drives employees away or shakes their confidence in your attention to their safety at the workplace.
Sanitization of the maintenance staff
It is not only the employees that are the focus here. The maintenance staff is also people who are at work with the constant risk of their health and life hanging over them. This makes you ensuring sanitization means for them a priority for you. Not only this, but their work also involves them interacting in one form or another with the whole office space and the people in it. This means that their sanitization also increases the chances of the others being safer and the workplace being less risky for everyone.
Revamping office seat arrangement
In times of COVID-19, it is nearly impossible to continue with the workplace looking and being the way, it was in pre corona times. A necessity has come up to rethink and revamp the whole sitting space and office seating arrangement. The new plan must cater not only to the need for social distancing between employees but must also to allow people to interact at a distance. This is true at more than the floor level. The days of crowded cafeterias and coffee machines are in the past as of now.
Reducing touch points using technology
From smart doors to voice command desktops, there are a plethora of ways today to ensure your employees coming back to work touch the least amount of surfaces. This reduces the risk to themselves and others. Technology has swiftly become the answer to many of the requirements arising in the new old workspace. Investing in the technology for your workspace is also a good move in making your office futuristic.
Protective equipment and sanitizers for employees
Personal sanitization has become a need and a norm today, with the COVID-19 being present. The best way to ensure higher safety is to have protective equipment and sanitizers for all employees. Keeping themselves safe works in the best interest of you too. Providing these items to them ensures the safety needs are met. This becomes all the more crucial for jobs and tasks where there is high interaction with people or surfaces. It is also wise to invest in non-touch sanitization stations across the workplace.
Regulating the usage of common areas
As we mentioned before, the days of brimming office cafeterias and coffee spots are in the past for now. As employees return to work, it will become important to ensure social distancing norms are followed. Not only this, but the most worrying places in a workspace are the common areas. It falls on you to ensure that the common spaces are not frequented more than necessary and by more people than necessary. This regulation may take time and effort on your end but will certainly be necessary in order to keep the working environment as safe as possible.
Air conditioning
All of us have heard how a central air conditioning system is a major problem that offices are facing today as they reopen. With such a system in place in almost all high-end workspaces, the task of ensuring safety is made more complex. Such systems are designed in such a manner that the spreading of COVID-19 is nearly certain if they are used. This means that offices will have to come up with options beyond this. Temperature control in a workplace setting is crucial and is a hygiene factor for most employees in any organization. Finding alternate solutions to this is a necessity now.
Communication and signage
Having to keep social distancing norms in mind, communication in workspaces is bound to be different now. Finding the right ways for employees to communicate without compromising on their safety is a facet all organizations will have to work on. Similarly, the signage system will have to evolve to involve the least contact with persons and surfaces. A system will need to be defined to allow for all the merits of the old system with the precautions of the new one needed in place.
Incident Management Process
Before COVID-19 was in our lives, incident management often involved visiting the person or site and ensuring the order is restored. Today, from travel restrictions to distancing norms, all hint at a piece of news to find a new system for this. Based on your work kind and intensity, an alternate system will have to be put in place for managing critical incidents at the workplace. That being said, incident management has also become a bigger priority now than ever to avoid any health and safety hazards to the employees.
All of these and much more and today something no workspace can ignore and requires your attention to ensure the best for your team. We Clean Bathrooms definitely can help you with this, you may contact us at 984-344-7272 or visit our website.